Home / News / Agroecology in the Ziama forest: an alternative to monoculture and (...)
Agroecology in the Ziama forest: an alternative to monoculture and synthetic pesticides and fertilisers
12 July 2023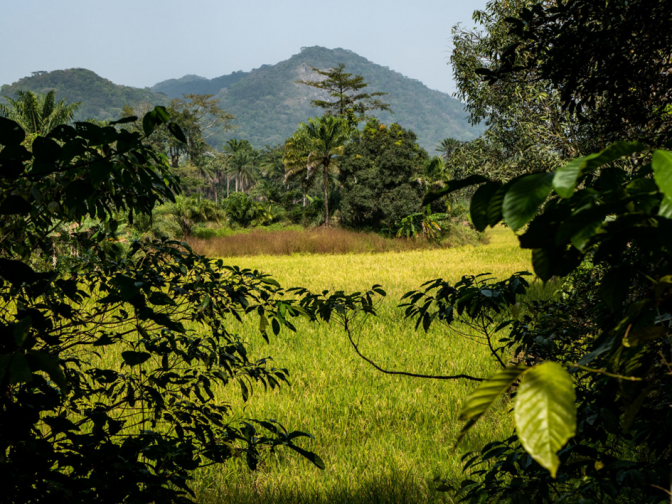 Ziama forest is a site of exceptional biodiversity located in the southeast of Guinea. The 1 190-square-km Ziama Massif is a UNESCO Man and Biosphere Reserve (MAB) and is home to the last remaining population of forest elephants in Guinea.
Farmers in communities close to the reserve are faced with numerous challenges including declining yields, loss of soil fertility, and deforestation of vegetation cover to the detriment of growing areas.
To address these challenges, PAPFor's implementing partner GRET [1] and its partners in the "One Landscape: One Vision" project of the PAPFor programme worked with 12 out of 32 villages around Ziama forest to build an integrated and environmentally friendly approach to agriculture.
The basis of the integrated approach is working with 12 'relay farmers' (identified and chosen jointly with the community) to build knowledge of agroecological/agroforestry techniques and practices in demonstration plots and to raise awareness in the communities about the harmful effects of synthetic chemical pesticides.
Pesticide awareness and training
Communities were informed about the risks linked to pesticide use, and farmers were instructed on recognising synthetic chemical pesticides, hazard warnings, and precautions to take during use, as well as supporting them in the adoption of ecological alternatives.
To prepare for these information sessions, GRET worked with the selected relay farmers to identify the most commonly used pesticides in the 12 villages, and prepare information about their active ingredients. The awareness-raising sessions enabled communities to learn about the main types of pesticide toxicity on humans and the environment, the meaning of pictograms on pesticide labels and on the safety and precautionary measures to take when applying pesticides.
Training communities on how to prepare liquid/solid organic fertilisers and biopesticides, to reduce the use of synthetic chemical pesticides
The preparation of liquid and solid organic fertilisers (compost), as well as biopesticides based on local raw materials, are among the skills and know-how that the GRET team is developing with certain communities around Ziama. Based on raw materials of plant or animal origin (e.g. manure), these preparations help protect crops and/or improve soil fertility and plant nutrition.
A. Recipe for liquid fertiliser
What elements/ingredients are used to prepare the liquid fertiliser?
• Animal faeces, preferably fresh faeces (1/3 of the liquid fertiliser preparation container);
• Fresh green vegetable matter (1/3 of the container);
• Ash (1 to 3 shovelfuls depending on the container);
• Live soil (1 to 3 shovelfuls depending on the container);
• Fish waste or soil from fish ponds (optional);
• Small animal carcasses (optional);
• And water (up to 10 cm from the top of the container).
Recipe for solid fertiliser (composting)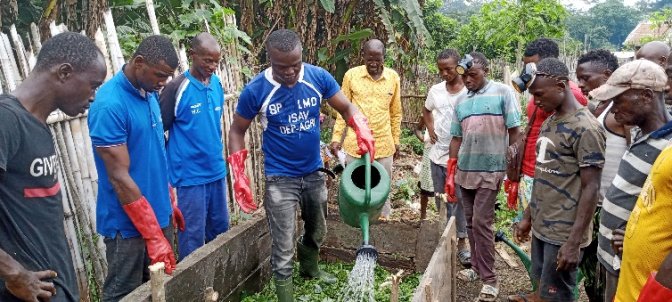 What ingredients are used to prepare solid fertiliser?
• Fresh vegetation: leaves, stems (twigs), branches, etc.
• Dry vegetation: straw, crop residues (rice husks, coffee hulls, groundnut hulls, etc.).
• Pig manure or slurry mixed with soil: 2.5 kg of raw manure or bedding per m².
• Tithonia/papaya leaves and ash to combat pests and rodents.
Preparing biopesticides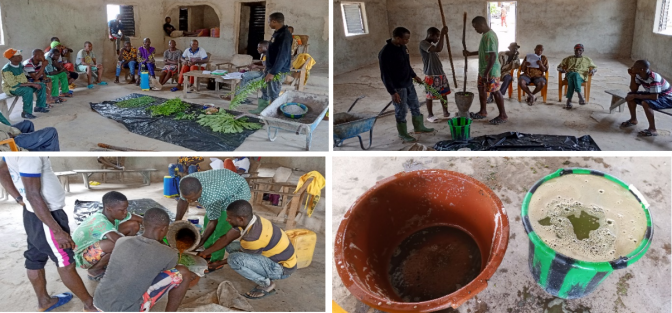 There are several types of biopesticide with different properties: insecticide, insect repellent, acaricide, fungicide. They can be prepared using chilli, tobacco, neem, ash, basil, garlic, papaya and citronella. The GRET team is helping farmers to prepare the appropriate biopesticides in line with their needs and the types of damage and disease they observe on their farms. Below is an image of a practical session on preparing a papaya leaf-based biopesticide.
To ensure that the training sessions run smoothly and that the farmers are able to implement the practices and techniques effectively, a kit consisting of small agricultural materials and equipment has been supplied to the relay farmers in the 12 villages targeted by the project
Demonstration plots: a system to boost the capacity of relay farmers and their peers in agro-ecological practices
The demonstration plot is a tool that enables farmers to experiment with one or more good practices while facilitating exchanges between peers, to promote the adoption of these practices.
The relay farmers and groups of farmers were trained to manufacture biopesticides to combat crop diseases and pests, and to make and use compost to improve soil fertility.
Kokoly Toupou, one of the relay farmers, from the village of Boo, had this to say about the training: "For a long time we have chased in vain after chemical products on the market to apply to our crops. Not only are these expensive but they also pose risks to our health, even though we had the solutions all around us. Now, thanks to the training and awareness-raising I've received, I will be able to save my money because the organic waste that we thought, in our ignorance, was useless will be useful to optimise both the quality and quantity of our yields."
Agroforestry to protect crops and increase productivity
Scientific literature shows that plant diversification in agricultural plots and landscapes is an effective natural solution for protecting crops and guaranteeing higher yield levels than diversified systems.
In March 2023, as part of this project, GRET launched support initiatives for 12 communities around Ziama, with the aim of developing agroforestry on their farms. These support initiatives, which aim to improve their agricultural production, began with awareness-raising training sessions to show the communities the importance of agroforestry. Other awareness-raising actions on agroforestry practices (such as crop rotation, growing combinations using forest, fruit or other trees with either crops, livestock or even both, on the same plot of land, etc.) will be added during the coming months of implementation.
---
[1] GRET: Groupe de Recherche et d'Echanges Technologiques (Group for Research and Technology Exchanges)
/B_documents_decompte>