Home / News / An ambitious initiative to adapt the IMET tool
An ambitious initiative to adapt the IMET tool
2 March 2023
PAPFor, BIOPAMA and the European Union Joint Research Centre launch an ambitious initiative to adapt the IMET tool for community forests and other community-managed conservation areas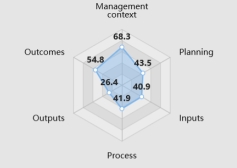 As a complement to the classical approach of establishing protected areas managed by national administrations, countries where PAPFor operates are engaged in creating community forests and other community-managed areas. This change in governance is innovative and offers new perspectives to all actors involved in the forest sector, both at central and local levels.
The process of creating community forests is becoming increasingly important due to the multiple environmental, socio-economic, political and institutional factors that impose a change in the way that natural resources are managed to ensure that natural and cultural heritage is preserved for the benefit of rural communities' sustainable development.
It will therefore be important to monitor these processes closely and to support communities in effectively managing these forests.
A key tool for this is the Integrated Management Effectiveness Tool (IMET). However, IMET is particularly well suited to 'standard' protected areas. The objectives, issues, management types and implementation capacities of community forests and 'other effective area-based conservation measures' (OECMs) are very different and so IMET needs to be adapted to be applicable.
In January, the European Union's Joint Research Centre (JRC), the BIOPAMA programme and the PAPFor programme committed to set about adapting the IMET tool for use with OECMs, with a particular focus on community forests.
The first phase of the initiative has just started with the mobilisation of JRC IT experts who are developing a new module.
In the coming weeks, the second phase will allow for field testing in real situations in Liberia and Sierra Leone, in collaboration with BirdLIfe and RSPB.
The tool will then be refined on the basis of the feedback from the field tests.
Finally, a fourth and last phase will consist of a training of trainers for IMET to increase the use of this new tool that meets the expectations of the communities.
/B_documents_decompte>