Home / News / PAPFor holds Mount Nimba landscape regional steering committee meeting in (...)
PAPFor holds Mount Nimba landscape regional steering committee meeting in Nzérékoré, Guinea
12 July 2023
The meeting of the steering committee for the PAPFor programme in Mount Nimba was held in June in Nzérékoré. Its purpose was to assess implementation of recovery measures for the world heritage site, classified as 'heritage in danger', and to decide on the activities to be carried out over the next six months.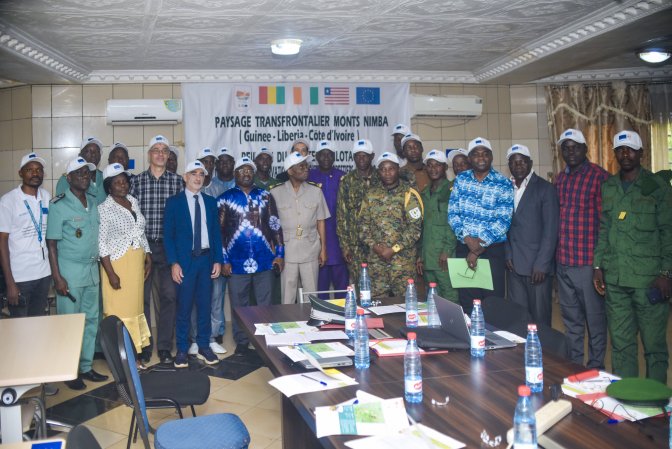 The Mount Nimba ecosystems are experiencing severe degradation due to human activities, threatening its status as a Biosphere Reserve (awarded in 1980) and World Heritage Site, listed by the United Nations Educational, Scientific and Cultural Organization (UNESCO) in 1991 for the parts of it in Guinea and Côte d'Ivoire. PAPFor's implementing partner in the Mount Nimba landscape is the United Nations Office for Project Support Services (UNOPS).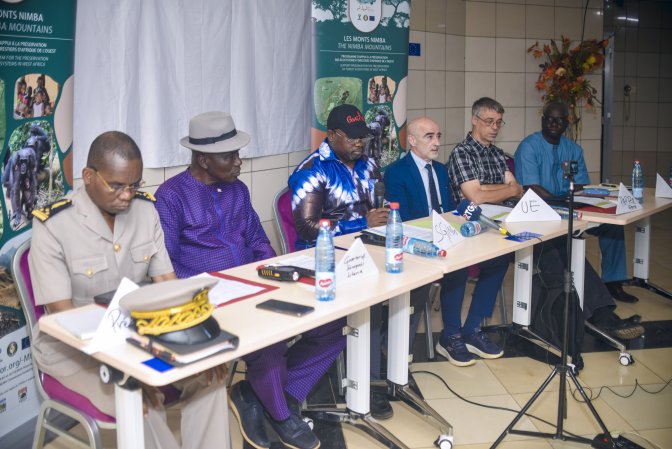 Juan Jose Villa Chacon, from the European Union Delegation to Guinea and steering committee member, underlined the need to take advantage of Nimba's Biosphere Reserve and UNESCO status to improve socio-economic development in the area around the reserve, while boosting surveillance and law enforcement within it. He maintained that encouraging results thus far have made it possible to reduce threats to Mount Nimba.
Fourteen (14) training activities have been carried out to support eco-guards in Liberia, Guinea and Cote d'Ivoire, the three countries with borders in the reserve, for the surveillance and the correct application of the law. According to Dr. Karim Samoura, Secretary General of the Guinean Ministry of Environment and Sustainable Development (MESD), PAPFor programme support has made it possible to identify and stop illegal activities within the reserve. "The categories of results identified in the operational action plan referring to the logic framework of PAPFor are now in the process of achieving results for which the MESD is satisfied," he said.
Eco-guards have also collected data in the course of 50 patrols carried out on behalf of the programme. This has made it possible to draw up a development and management plan, which has been finalised in Cote d'Ivoire and is in the process of being finalised in Guinea and Liberia.
/B_documents_decompte>