Home / News / State of play of the Local Development Committees in 6 villages bordering (...)
State of play of the Local Development Committees in 6 villages bordering Taï National Park
12 July 2023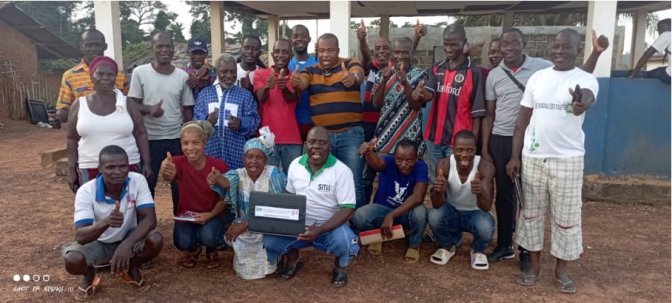 Liberia and Cote d'Ivoire are experiencing considerable over-exploitation of their natural resources due to illegal human activities, leading to the loss of many unique and endangered plant and animal species. In a bid to connect the forest ecosystems straddling the border between the two countries in the Taï – Grebo-Krahn – Sapo (TGS) landscape, the German Agency for International Cooperation (GIZ) is working with partners to protect and preserve these resources while improving local people's livelihoods.
As part of the work, GIZ has awarded the NGO Yacoli Village Ecole Ouverte (YVEO) a local grant to support the implementation of Local Development Plans of six villages bordering Taï National Park (PNT) from April 2023 to March 2024.
Yacoli Village Ecole Ouverte is an NGO based in Côte d'Ivoire that works mainly in the field of rural community development and nature conservation. It has been working in the periphery of Taï National Park with several communities since 2014.
The NGO will promote community involvement not only in the conservation of the Park's biological resources and maintaining its boundaries, but also in the sustainable management of natural resources in the Taï area. It aims to promote interest within the communities in ecological connectivity in the TGKS landscape while addressing their real and concrete needs.
As part of the work, the villages of Kéibly, Zaïpobly (Sub-prefecture of Zagné), Daobly, Paulé-Oula, Sakré (Sub-prefecture of Taï), and Poutou (Sub-prefecture of Djouroutou), located west of PNT, benefited from an inventory of their respective Local Development Committee (LDC). The YVEO team took stock of the LDCs' functioning through a participatory diagnosis, and to identify capacity building needs of the LDCs' management bodies.
From 13 to 18 June 2023, GIZ conducted a workshop in the six project communities to present its interim report. The workshops also served as a framework to restructure the individual LDCs and their management bodies. This led to a capacity-building plan based on the different needs identified by each village. Each LDC was provided with a computer and received support for the creation of its Facebook page, YouTube account and e-mail address, pending the next actions of the initiative. The president of Sakré's LDC, Mr Hyacinthe TOHAGNY, expressed his gratitude and heartfelt thanks on behalf of all the beneficiaries to GIZ and its partners and reiterated his commitment and that of his entire community to work actively for the achievement of the various objectives assigned to them.
A total of 90 people (LDC members) participated in the workshops.
/B_documents_decompte>