Home / News / Support for ranger patrols significantly reduces hunting in Cross River (...)
Support for ranger patrols significantly reduces hunting in Cross River National Park, Nigeria
15 February 2023
In 1991 the Federal Government of Nigeria established by Decree the Cross River National Park (CRNP), located in Cross River State, south-eastern Nigeria. The park is divided into two: Oban Division, established in 1988, and Okwangwo, in 1991.
Cross River National Park covers an area of about 4 000 km2, most of which consists of primary moist tropical rainforests in the north and central parts, with mangrove swamps in the coastal zones. Parts of the park belong to the Guinea-Congolian region, Nigeria's last remaining tropical rainforest. The Guinea-Congolian ecoregion supports unique species living in the mountains with a closed canopy and trees of some 40 or 50 metres high.
CRNP has one of the oldest rainforests in Africa and has been identified as a biodiversity hotspot. It contains several rare and endangered species, such as the Cross River gorilla, Nigeria-Cameroon chimpanzee, forest elephant, forest buffalo, drill, Preuss's red colobus and Preuss's monkey.
However, these species are threatened by hunting to supply the bushmeat trade, illegal logging and agricultural encroachment.
With support from the EU PAPFor project, the Wildlife Conservation Society provides support for Cross River National Park patrols by rangers from the Nigeria National Park Service.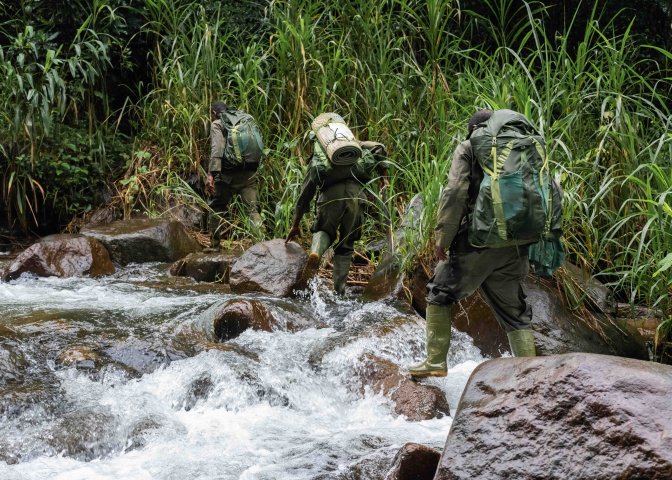 In 2022 the project supported 153 anti-poaching patrols in the park, covering a distance of 9 603 km over 6 296 patrol man-days. The patrols resulted in the arrest of 98 offenders for illegal logging and hunting.
More importantly, the encounter rate of wire snares declined by over 70 % from 0.85/km in 2021 to 0.24/km in 2022. Together with support for environmentally sustainable economic opportunities for surrounding communities, this is a significant achievement for Cross River National Park and offers real hope for the future of Nigeria's endangered wildlife.
/B_documents_decompte>