Home / News / Tree nursery empowers women in Tai region, Côte d'Ivoire
Tree nursery empowers women in Tai region, Côte d'Ivoire
14 December 2022
In Cote d'Ivoire, forests are being cut down at an alarming rate, mainly for cocoa cultivation. The only remaining dense forests are in seven reserves and eight national parks, including the Tai National Park in the south-west of the country.
Created in 1973 with 350 000 hectares, Tai National Park is home to an amazing diversity of flora and fauna, including elephants, buffalos, pygmy hippos, red colobus and a wide range of primates. It became a Biosphere Reserve in 1978 and a World Heritage Site in 1981, listed for its 140 species of mammals, 12 endemic species, 240 species of birds, over 1 800 plant species including 138 endemic species.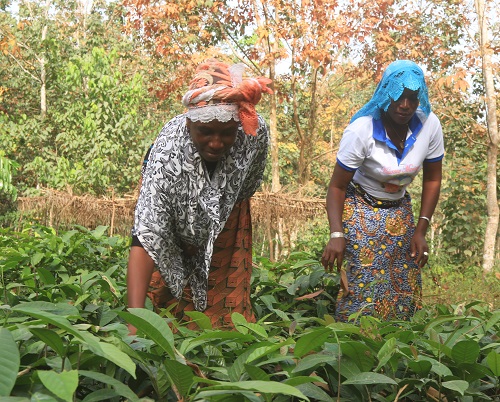 In the southwestern forest area of Zaïpobly, outside the park in Tai region, a group of women called 'Trantie Troti' or 'Women, Aunts working on forest fruit trees', are involved in small-scale farming. Their rights to own land are limited as the area is largely inhabited by migrant farmers from Burkina Faso. However, these women have dedicated their time and energy to a project that has lasted for over 20 years, creating economic sustainability and ensuring environmental protection.
Spearheaded by Simone Tahi and Aminata Ouédraogo, themselves Burkinabe migrants, the group comprises 200 women who are actively engaged in breeding and planting makoray trees, and producing oil from the fruits, and inspiring many other farmers to engage in makoray planting. To scale up their efforts, the EU-funded Support PAPFor programme, through the German Agency for International Cooperation (GIZ), is providing technical and financial support to Trantie Troti to cultivate, transplant and sell makoray seedlings as part of their livelihood initiative supported by GIZ.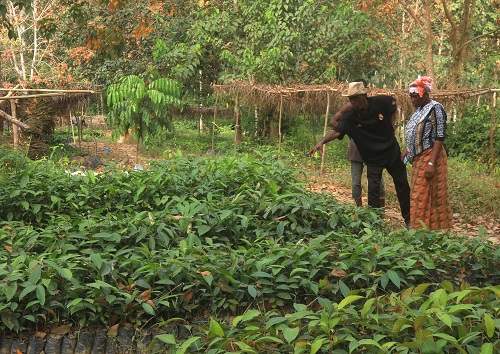 According to Aminata, there is a high demand for makoray seeds and seedlings for nurseries by large-scale farmers in other areas in Côte d'Ivoire. 'The seedlings are in such high demand that it is very hard to find the fruit seeds now,' Aminata said.
Under the PAPFor project, GIZ is supporting the development of the nursery, the production of oil, shea butter, and linking the farmers to a market for the sale of these agro-products. The women are provided with rudimentary materials such as boots and cutlasses to maintain the nursery effectively. With proceeds from the sale of seedlings, the women's group operates a cash fund to assist needy members or members of their families.
When they began the makoray nursery in 2002, the Trantie Troti women became the first organisation to produce oil from this forest plant. With support from PAPFor, for the first time, the group made 5 million makoray seedlings available for sale in May 2022. PAPFor through GIZ is ensuring these women are visible and recognised in the production market.
'I feel empowered to provide a platform for my fellow women to make a living,' said Aminata Ouédraogo, Trantie Troti co-leader. 'As a leader, I want to continue to bring peace and provide economic sustenance for these mothers, daughters and wives in my community. The men have taken the cocoa space. That is why we will focus on replanting the lost trees and at the same time making money.'
/B_documents_decompte>