Home / News / Using radio storytelling to change environmental attitudes and behaviours (...)
Using radio storytelling to change environmental attitudes and behaviours in Cross River State, Nigeria
3 May 2023
The Wildlife Conservation Society's (WCS) My Gorilla My Community (MGMC) radio programme is a behaviour-change communication campaign that leverages the power of media and storytelling to inspire positive change in attitudes and behaviour towards Cross River gorillas and their habitat. The radio drama, produced by Linda's Joint. forms part of a 30-minute programme aired on local radio stations. Although fictional, the storyline draws on the reality and culture of the target communities of Boki Local Government Area in Cross River State, reflecting the culture, conservation realities and challenges in the area. The characters, whose names are drawn from within local communities, enact scenes closely resembling the reality of local people's lives.
The MGMC dramas deal with topical conservation issues, ranging from bush burning, gorilla protection (enforcement), hunting, logging, encroachment into protected areas, success stories from communities, policy issues and the varied experiences of WCS field officers. WCS made a table of the issues and divided them into 26 episodes.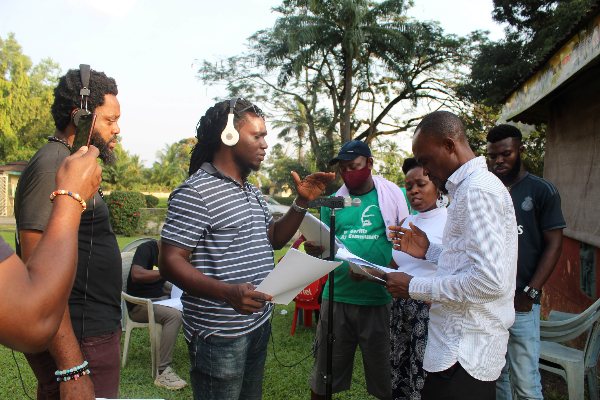 Character stories are intermingled with the issues to provide entertainment. Some present WCS' conservation messages, while others are antagonists. The meeting point of these two provides the drama. In each episode of about 8 to 9 scenes, there are at least one or two conservation messages on the thematic issues. The idea is to maintain a balance of 70-75% entertainment and 25-30 % educational content, to sustain the audience's interest.
The story is set in the village where the programme is recorded. Each scene is recorded to capture the real ambiance described in the script. Conservation messages are conveyed by the actors.
My Gorilla My Community aims to promote conservation education and create broad awareness of endangered and rare species, especially the Cross River gorilla, and also to promote knowledge on water, sanitation and hygiene. The programme began in 2016 and is currently in the 9th season, with 208 episodes of audio content produced and still counting.
In 2022, MGMC reached over 100 000 people within and around the project landscape of Boki and Akamkpa LGA. It targeted communities living next to the Cross River gorilla habitat as its primary audience. Besides these, over 1 million people in cities across Nigeria's south-eastern Cross River State are learning about the species. The radio drama is currently broadcasting 26 episodes on three local radio stations (HIT FM, CRBC Calabar and CRBC Ikom).
To increase the programme's audience, the Wildlife Conservation Society is working to create podcasts of all the episodes so that more people, both in Nigeria and elsewhere in the world, can learn about the Cross River gorilla.
Like other gorillas, the female Cross River gorilla starts reproduction between the ages of 10 and 11 years after a gestation period of 250 days and gives birth to two offspring within the course of four years. This slow reproduction rate of the critically endangered species is a determining factor for its conservation and protection. Threats to its existence range from habitat destruction due to human population growth, illegal hunting for bush meat consumption, habitat destruction and loss due to logging and unsustainable agricultural practices, and poaching.
Cross River gorillas live in low- and mid-elevation rainforests and montane forests. According to research, the remaining populations live in roughly 11 sub-groups in the region's highland areas. One of four known subspecies of gorillas, they bear a close resemblance to Western lowland gorillas although differ in the dimensions of their skulls and teeth.
The Wildlife Conservation Society (Nigeria Programme) has established educational outreach programmes for several communities living in and around the Cross River gorilla habitat. These programmes inspire local people to work alongside WCS conservationists, by supporting community-managed protected areas, as in Nigeria's Mbe Mountains, or through joining monitoring initiatives, such as the gorilla guardian network in Cameroon.
Additionally, WCS is seeking to generate more sustainable livelihoods and encouraging hunters to transfer their skills to gorilla research and conservation. These community activities promote the area's traditional regard for Cross River gorillas since their estimated numbers hover at fewer than 300 individuals.
WCS is committed to improving legislation and law enforcement as well as to investigating how ecotourism could support local conservation projects.