Home / News / WCF trains beekeeping cooperatives in OKKPS
WCF trains beekeeping cooperatives in OKKPS
2 March 2023
As part of the Outamba-Kilimi-Kuru Hills-Pinselli-Soyah (OKKPS) project funded by the European Union through the PAPFor programme, the Wild Chimpanzee Foundation (WCF) organised a series of training sessions for members of the beekeeping cooperatives in January.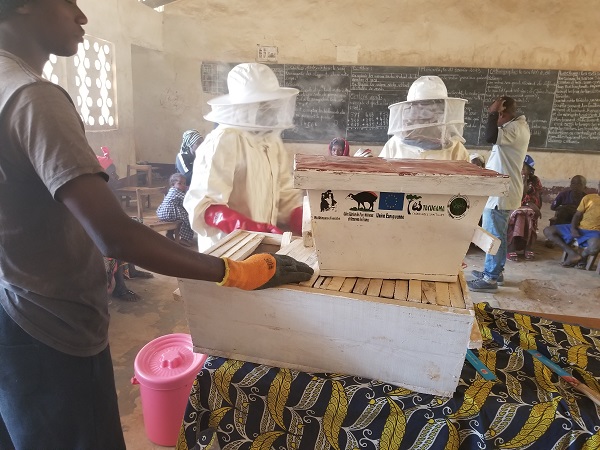 During the three training sessions, participants learned essential techniques for managing and monitoring beehives and producing ecologically responsible honey.
The training sessions were organised in Madina Oula (Karimouya) community, Ouré-Kaba, and Soyah from 17 to 29 January 2023. They were designed to encourage the harnessing of non-timber forest products (NTFP) to promote community development. More specifically, the training sessions will improve community livelihoods and promote the socio-economic situation of populations in the future Pinselli-Soyah-Sabouyah National Park.
In total, 74 members of the beekeeping cooperatives, including 33 women, improved their beekeeping knowledge and skills in the following four themes:
criteria for choosing and selecting a beehive;
techniques for managing and monitoring hives;
producing improved honey using Kenyan beehives;
and techniques for harvesting the beehives and processing honey.